On 23 March 2022, the Dutch district court of The Hague held that McCain infringed on Simplot's Community design for its proprietary twisted potato product. In its comprehensive judgment, the court not only granted a pan-EU injunction against the fifteen McCain group companies involved in the litigation, but also ancillary claims such as recall and destruction of McCain's infringing "Rustic Twist" products, public rectification, accounts of sales and profits, document disclosure, damages and legal costs.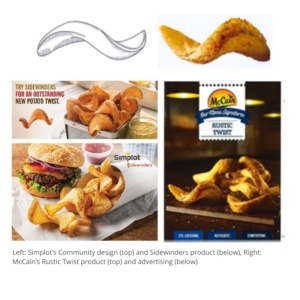 The judgment is noteworthy since the Dutch court assumed cross-border jurisdiction against a number European companies as well as the Canadian McCain parent company and followed Simplot's plea to also award a range of claims harmonized throughout Europe under the enforcement directive in order to effectively remedy McCain's infringement.
HOYNG ROKH MONEGIER represented Simplot in these proceedings as well as in the preceding PI proceedings in the same dispute, in which Simplot also prevailed against McCain on first instance in and on appeal. Our teams in Amsterdam, Brussels and Paris joined forces in coordinated seizure proceedings conducted at McCain in Belgium, France and the Netherlands. Also, the Brussels office successfully defended Simplot's Community design registrations before the EUIPO in eleven invalidity actions filed by McCain, whilst our Madrid office manages Simplot's EU trademark portfolio.
For more information, please contact Laura Fresco or Roeland Grijpink.