Franca Poll-Wolbeck
HOYNG ROKH MONEGIER is "precise and creative, with a fantastic team who all deliver top-quality work. Their legal skills and patent litigation experience are outstanding, while their ability to understand complex technology and to engage in direct discussions with engineers is impressive. They also have a very good understanding of complex business needs and their advice is always down to earth and practical."

IAM Patent 1000
Contact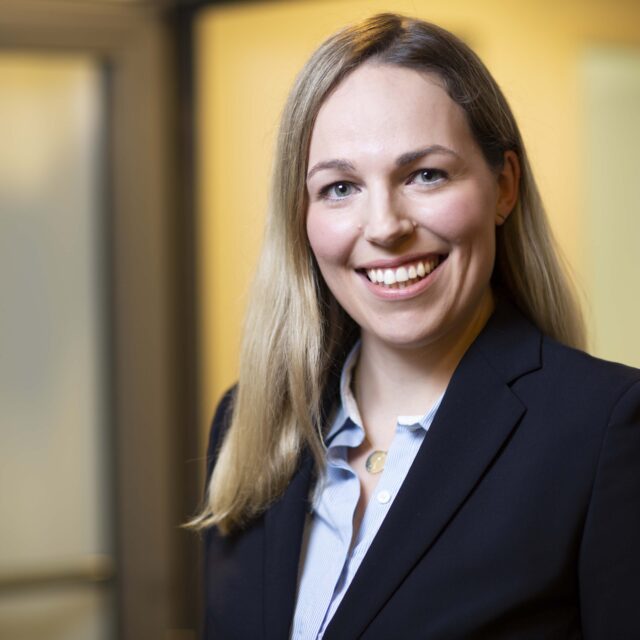 HOYNG ROKH MONEGIER is "precise and creative, with a fantastic team who all deliver top-quality work. Their legal skills and patent litigation experience are outstanding, while their ability to understand complex technology and to engage in direct discussions with engineers is impressive. They also have a very good understanding of complex business needs and their advice is always down to earth and practical."

IAM Patent 1000
Franca Poll-Wolbeck represents and advises national and international clients on patent infringement, nullity and opposition proceedings, in particular in the fields of telecommunications, automotive, consumer products and mechanics.
One of her main practice areas is the legal and strategic advice on antitrust law compulsory licensing ("FRAND") to standard essential patents in litigation as well as in out-of-court negotiations. She advises telecommunication providers as well as manufacturers of terminal equipment and chipsets and is active in the field of connected cars.
In addition, she provides comprehensive advice on questions of employee invention law and accompanies the practical implementation of the respective legal requirements within companies. She is publishing in the area of employee invention law in Beck's online forms.
Franca Poll-Wolbeck has been admitted to the bar since 2017. She studied law at the University of Bonn and Sciences Po Paris with a focus on "Economics and Competition". During her preparatory service, she worked for a leading international law firm, the German Federal Cartel Office and the United Nations in New York City, among others.
PROFESSIONAL AFFILIATIONS

German Association for the Protection of Intellectual Property (GRUR)
Intellectual Property Owners Association (IPO)
Association of Intellectual Property Experts (VPP)
Bezoek ons
Bezoekadres:
Steinstraße 20
40212 Düsseldorf
Germany
Postadres:
Steinstraße 20
40212 Düsseldorf
Germany
Info
Talen
German, English, French
Opleiding
Higher Regional Court of Köln (2017)
First State Exam (2014)
University of Bonn (2007)