Team
Door in teams te werken kunnen we snel schakelen en op korte termijn antwoorden geven.
Veel van de zaken die we behandelen zijn van nature internationaal. Advocaten van onze verschillende kantoren werken naadloos samen in grensoverschrijdende teams.
De omvang van het team, de selectie van de leden en de taakverdeling wordt volledig afgestemd op de behoeften van de cliënt en de expertise die vereist is voor de betreffende zaak. Onze efficiënte interne structuur is zo ontworpen dat er geen hefboomwerking is of dubbel werk gebeurt.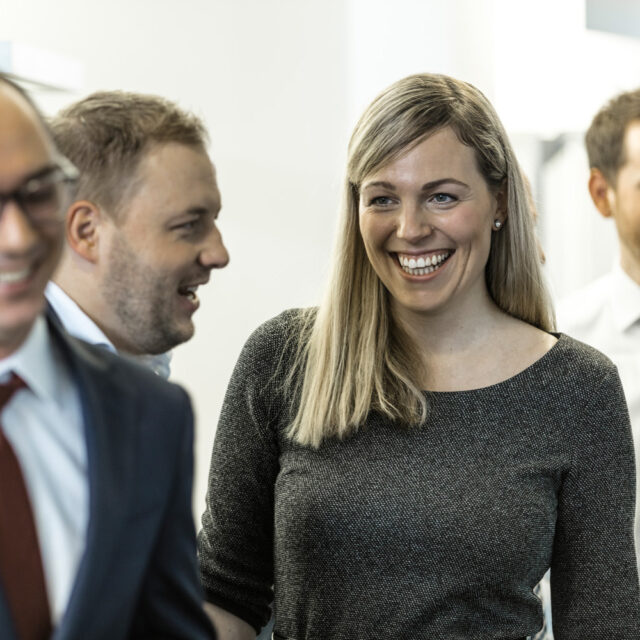 Intellectuele eigendom is onze passie. We werken onvermoeibaar om de ideeën en innovaties van onze cliënten te beschermen en hen te helpen de wereld om ons heen te veranderen.
Vacatures
Geen resultaten gevonden. Probeer het nogmaals.
What's so special about HOYNG ROKH MONEGIER?
I can only speak for the Amsterdam office, but I think one of the things that make our firm special is that even though we work very hard on complicated cases, the atmosphere in the office is very informal and open. One minute you are involved in a complex meeting with a team of other associates, patent attorneys and partners and the next you share a drink together in the bar on the 31st floor and discuss last night's episode of "Temptation Island".
Who inspires you the most and why?
That's a tough question; I don't think I have a particular source of inspiration except, of course, the great Mr. Hoyng himself 😉 .
What would you have done if you hadn't become involved in intellectual property?
I probably would have been a corporate (M&A) lawyer at one of the big "Zuidas" firms here in Amsterdam, since I did a master's in corporate law. Very happy that I rolled into IP instead!
What's the best thing about your job?
What I really like about my job is that it's different every day. Different cases, different work activities, different teams of people you work with; not one day is alike. I also enjoy the daily table football matches, weekly drinks and annual ski trip and retreat!
Which books are currently on your nightstand?
I must admit that these days I spend more hours watching Netflix than reading books. Recently, however, I decided to change that habit. I just finished 'Grand Hotel Europa', by Dutch writer Ilja Leonard Pfeijffer, in which he displays an interesting view on (the link between) tourism and the – in his eyes inevitable – downfall of Europe as we know it. Very interesting! Currently I'm reading Michelle Obama's biography. I had no idea she was a lawyer before she became first lady!
What do you enjoy doing during your free time?
Over the past two years, since I've started working, I've started a different activity every three months or so. So far I've tried windsurfing, salsa dancing, barre classes, boxing, running, swimming and I'm still to decide what my next project is going to be, maybe something with music? I highly recommend this approach to anyone who gets bored easily like I do!
Which advice would you give a junior lawyer.
Being a junior lawyer myself, I can only advice to select a firm where you like the type of cases that are being dealt with, the atmosphere and most importantly, the people. Also, don't worry about feeling that you don't know anything. It'll get better!