Max von Leitner
HOYNG ROKH MONEGIER is "precise and creative, with a fantastic team who all deliver top-quality work. Their legal skills and patent litigation experience are outstanding, while their ability to understand complex technology and to engage in direct discussions with engineers is impressive. They also have a very good understanding of complex business needs and their advice is always down to earth and practical."

IAM Patent 1000
Contact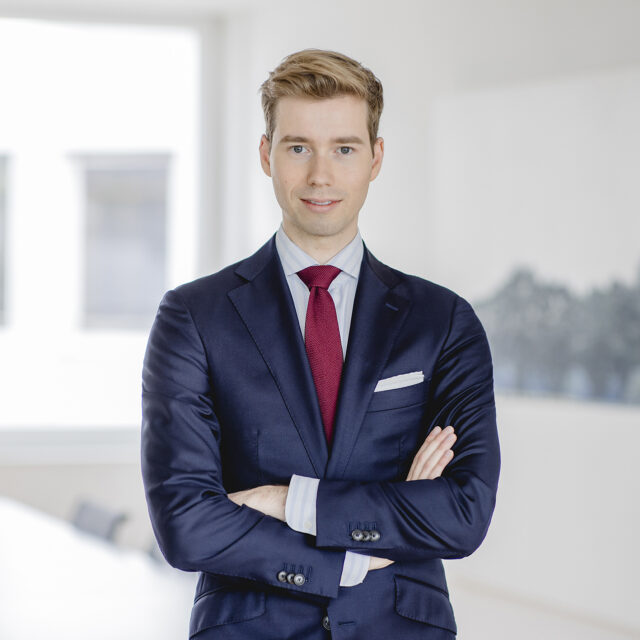 HOYNG ROKH MONEGIER is "precise and creative, with a fantastic team who all deliver top-quality work. Their legal skills and patent litigation experience are outstanding, while their ability to understand complex technology and to engage in direct discussions with engineers is impressive. They also have a very good understanding of complex business needs and their advice is always down to earth and practical."

IAM Patent 1000
Max von Leitner advises and represents clients in various fields of intellectual property law, in particular on patent law. His practice focuses on strategic advice and representation in complex national and cross-border patent infringement and nullity proceedings, inter alia in the technical fields of telecommunications, chip and semiconductor technology, pharma and chemistry as well as mechanics.
Max von Leitner studied law at the Heinrich-Heine university of Düsseldorf, specializing in private international law and arbitration law. Between his first state examination and his legal clerkship, he gained experience in intellectual property law as a research assistant at HOYNG ROKH MONEGIER. During his legal clerkship at the Higher Regional Court Düsseldorf, he deepened his knowledge in the field of intellectual property law, inter alia by working at HOYNG ROKH MONEGIER and the IP law department of a leading German premium car manufacturer.
Following his second state examination (bar exam equivalent), Max von Leitner worked as an attorney-at-law (Associate) at HOYNG ROKH MONEGIER with a focus on patent law. Subsequently, he worked for several months as a legal consultant at the German Federal Office for Information Security, the German Cybersecurity agency, where he gave legal advice to a technical department on all legal matters. As of May 2022, Max von Leitner re-joined HOYNG ROKH MONEGIER in his previous position.
PROFESSIONAL AFFILIATIONS

German Association for the Protection of Intellectual Property (GRUR)
Intellectual Property Owners Association (IPO)
Association of Intellectual Property Experts (VPP)
Bezoek ons
Bezoekadres:
Steinstraße 20
40212 Düsseldorf
Germany
Postadres:
Steinstraße 20
40212 Düsseldorf
Germany
Info
Opleiding
2nd state examination, Düsseldorf (2020)
1st state examination, Düsseldorf (2017)
Law studies, Heinrich-Heine-University Düsseldorf (2012)