Ivan Dimitrov
'Particularly noteworthy is Ivan Dimitrov, who is not only an absolute great professionally, but who is also a lot of fun to work with. Committed, proactive and full of ideas on how to solve problems.'

Legal 500 EMEA, Germany, 2022
Contact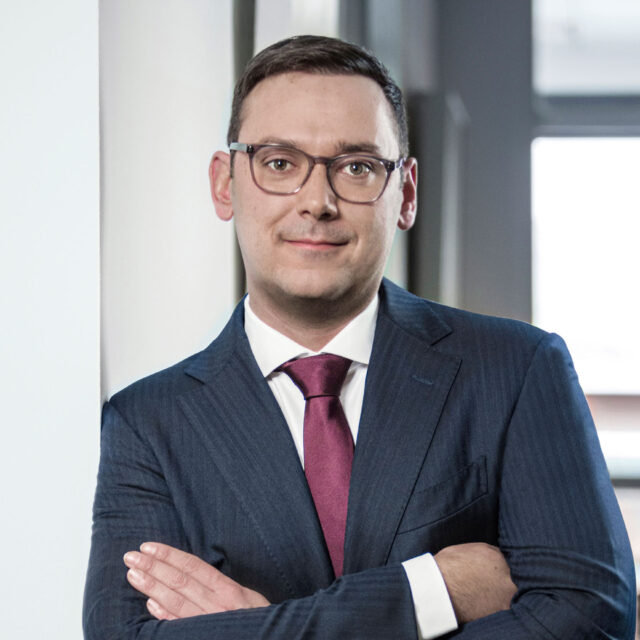 'Particularly noteworthy is Ivan Dimitrov, who is not only an absolute great professionally, but who is also a lot of fun to work with. Committed, proactive and full of ideas on how to solve problems.'

Legal 500 EMEA, Germany, 2022
Ivan Dimitrov advises and represents national and international clients in the field of intellectual property law, with a particular focus on trademarks, competition law and trade secrets. He has extensive experience in the life science, consumer electronics and consumer goods sectors, amongst others. Clients value Ivan's in-depth expertise in intellectual property law. He regularly advises on the management of national and international trademark portfolios and develops custom-made strategies to meet the individual needs of his clients, from the application stage to the defence and enforcement of trademarks. Ivan has represented clients in complex disputes before all relevant German IP courts, including the German Federal Patent Court, as well as the German Trademark and Patent Office (DPMA). He also has experience before the European Union Intellectual Property Office (EUIPO) and the EU courts.
He studied at the University of Düsseldorf, specializing in intellectual property law. During his legal clerkship, Ivan worked for a Trademark Chamber of the Regional Court of Düsseldorf, in the IP department of an international law firm in Düsseldorf, and in an IP boutique in Washington D.C.
Upon completion of his legal clerkship, Ivan worked as a research assistant for an international law firm in Düsseldorf in the field of trademarks and unfair competition. Additionally, he participated in a visiting scholar program at Fordham Law School, NYC.
REPRESENTATIVE MATTERS

Management of the international trademark and design portfolio as well as comprehensive advice and legal representation of one of the largest German confectionery manufacturers
Management of the German and European trademark portfolio of one of the world´s leading pharmaceutical companies
Management of the international trademark portfolio of a transnational technology company specializing in internet-related services and products in the areas of hotel, accommodation and meta search
Comprehensive advice and representation of a global market leader in the field of consumer electronics in matters of trademark, competition and copyright law
Comprehensive advice and representation of an internationally active pharmaceutical company and manufacturer of medical devices in multiple trademark as well as unfair competition law matters

PROFESSIONAL AFFILIATIONS

German Association for the Protection of Intellectual Property (GRUR)
Intellectual Property Owners Association (IPO)
Association of Intellectual Property Experts (VPP)
European Communities Trade Mark Association (ECTA)
Association of European Trade Mark Owners (MARQUES)
International Trademark Association (INTA)

WHAT OTHERS SAY

"Ivan Dimitrov always has the client's interests in mind, addresses problems proactively and is a valuable sparring partner with his outstanding expertise." Legal 500 Germany, 2023 (translated)
"Ivan Dimitrov: A uniquely good lawyer. He is reliable, he takes his time, he thinks along with the client, and he provides exceptional service." Legal 500 Germany, 2023 (translated)
"What makes Ivan Dimitrov's team so valuable is their focus on the essentials. Problems are solved in a practical way without unnecessary legal elaborations and complicated explanations. The work is always to the point." Legal 500 Germany, 2023 (translated)
"Ivan Dimitrov: The go-to person for trademark law – whether portfolio management, trademark strategy, prosecution or litigation, and this on an international level." Legal 500 Germany, 2023 (translated)
"Ivan is very dedicated and professional, and has an impressive level of attention to detail when it comes to creating and implementing prosecution strategies."- World Trademark Review 1000: The World´s Leading Trademark Professionals, 2023
Rising Star 2022, Managing Intellectual Property – IP Stars
Particularly noteworthy is Ivan Dimitrov, who is not only an absolute great professionally, but who is also a lot of fun to work with. Committed, proactive and full of ideas on how to solve problems. – Legal 500 EMEA, Germany, 2022
The perfect balance between professionalism and an extremely pleasant atmosphere makes working together so easy. Deadlines are always met, feedback is prompt and the results are outstanding. Particularly noteworthy is the feeling for the client and his needs. – Legal 500 EMEA, Germany, 2022
Visit us
Visiting address:
Steinstraße 20
40212 Düsseldorf
Germany
Postal address:
Steinstraße 20
40212 Düsseldorf
Germany
The facts
Languages
German, English, Bulgarian
Education
Fordham Law School, New York, USA (2015, visiting scholar)
Second State Exam Düsseldorf (2013)
First State Exam Düsseldorf (2011)
University of Düsseldorf (2006)