Theo Blomme
Blomme is "an extremely safe pair of hands in court" and, from an opponent's perspective, "a formidable adversary from start to finish".

IAM Patent 1000
Contact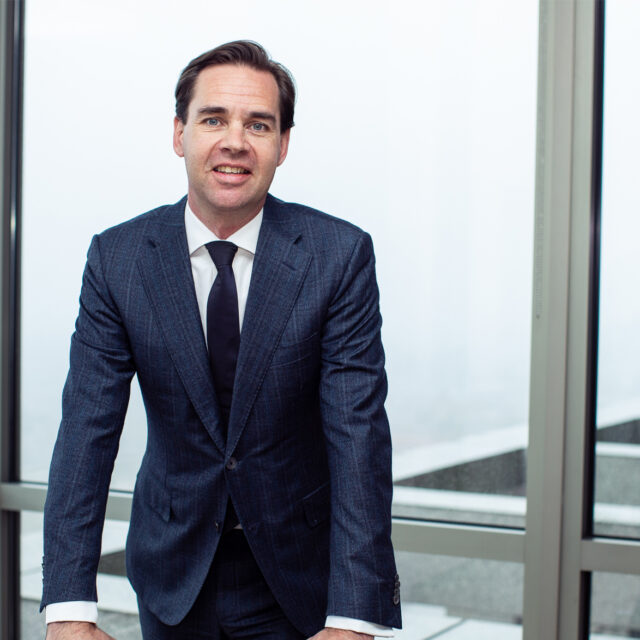 Blomme is "an extremely safe pair of hands in court" and, from an opponent's perspective, "a formidable adversary from start to finish".

IAM Patent 1000
Theo has a technical background and specializes in patent litigation, both in domestic and international cases.  
Clients praise his in-depth technical and legal skills, responsiveness, hands-on approach and sight of the bigger picture. Through continuous and frequent court presence, Theo has gained standing as an experienced patent litigator in highly complex, and often cross-border patent matters. 
Theo is an all-round patent litigator, feeling comfortable in practically all sectors. His practice comprises the fields of pharmaceuticals, biotech, telecommunications and computer related technology, electronics and mechanical engineering. 
Theo is also an active editor of Berichten Intellectuele Eigendom (BIE), the leading IP journal in the Netherlands. 
Theo Blomme has registered Intellectual Property Law as his principal legal practice areas in the Netherlands Bar's register of legal practice areas (rechtsgebiedenregister). Based on this registration, he is required to obtain ten training credits per calendar year in this principal legal practice area in accordance with the standards set by the Netherlands Bar.
REPRESENTATIVE MATTERS

Apple v. Ericsson. Defending Apple in respect of the alleged infringement of a large number of standard essential and non-standard essential patents of Ericsson.

Hanwha Solutions Corporation v. LONGi Solar.

Representing Hanwha in patent infringement proceedings regarding solar panel technology, obtaining a cross-border injunction in the Netherlands without there being a Dutch part of the enforced European patent.

InterMune Inc. v. Teva and Sandoz.

Representing InterMune (Roche) in 4 different nullity proceedings (per generic) regarding patents on their blockbuster drug Esbriet.
AstraZeneca v. Sandoz. Representing AstraZeneca in relation to the generic infringement of their Faslodex breast cancer patents, confirming the validity of these patents in appeal and securing a permanent injunction upon the defendant.
ASML v. Nikon. Representing ASML with respect to the alleged infringement of 12 different patents relating to immersion lithography technology. Settled following consecutive wins in the first series of cases.
DSM v. Novozymes. Representing DSM with respect to the infringement of their patent on lactase technology for dairy products, securing a cross-border injunction upon the defendant (which was later reversed following the patent's revocation by the EPO).

Apple v. Samsung.

Representing Apple in their global dispute with Samsung, relating to various patents on the user interface and operating system of smartphones and tablet computers, resulting in a preliminary injunction on several smartphones. Successfully defending Apple against three out of four of Samsung's standard essential patents on UMTS technology. Obtaining a landmark decision getting Apple's FRAND-defence awarded, resulting in having Samsung's injunctive claims dismissed.
LEO Pharma v. Sandoz. Representing LEO Pharma in appeal proceedings regarding the infringement of their combination patent for the treatment of psoriasis.

FUJIFILM v. Agfa

. Defending FUJIFILM in relation to the alleged infringement and validity of 4 patents with respect to printing plate technology. Settlement following the rejection of a preliminary injunction order.

AstraZeneca v. Teva

. Defending AstraZeneca in nullity proceedings relating to their patent on the Symbicort SMART asthma inhaler.
DSM v. Cargill. Defending DSM in nullity proceedings against two of their patents on polyunsaturated fatty acid microbial oils.
Ajinomoto Corporation v. Global Biochem Technology. Representing Ajinomoto in respect of the infringement and validity of three of Ajinomoto's biotech patents on genetically modified micro-organisms to produce L-lysine.
H. Lundbeck v. Tiefenbacher and Ratiopharm. Defending Lundbeck in nullity proceedings against their escitalopram patent.

PROFESSIONAL AFFILIATIONS

Editor of Berichten Intellectuele Eigendom (BIE), the leading IP journal in The Netherlands

WHAT OTHERS SAY

"Understands complex issues quickly and comes up with proposed ways forward."

Chambers & Partners 2023

"We are always impressed when we act against him" And "Very good work for Hanwha Q-Cells, both technically and procedurally" –

Competitors, in JUVE Patent 2022

"Blomme swiftly understands the essence of a matter and efficiently extracts the relevant facts before translating them into cogent and persuasive arguments. He also develops clear strategies that have the best possibility of success, which he bases on his own experiences."

IAM Patent 2022

"Theo Blomme is hands on and understands the needs of the clients. He finds solutions that make sense."

Chambers & Partners 2022

"First-class advocate, Blomme is extremely bright, grasps complex technical issues quickly and is very knowledgeable on local laws around pharmaceuticals. Extremely pleasant and always available."

IAM Patent 1000 2021

"He loves patent litigation, he loves his job."

Chambers & Partners 2021

"Theo Blomme has a deep grasp of the law and technological details of cases. He also has the ability to take a bird's-eye view of cases, including their international complexities." Chambers

& Partners

2020
"An incredibly bright, talented and meticulous lawyer with a keen technical and strategic understanding."

IAM Patent 1000 2020

"A litigator you should never underestimate." JUVE Patent 2020
"He is sharp, accurate and able to hit the right note." Legal 500 2020
Blomme is "an extremely safe pair of hands in court" and, from an opponent's perspective, "a formidable adversary from start to finish". IAM Patent 1000 2019
Theo Blomme acts for a broad client base on patent matters in the fields of technology, pharmaceuticals and telecommunications. Clients highlight his ability to "dive into technical detail without losing sight of the bigger picture". Chambers

& Partners

2019
"A very talented young litigator with a technical background. Blomme's opponents fear him. His expertise and visibility in court is so much more than that of his competitors. Incredibly focused and concentrated, he works tremendously hard and will fight for you. He's very thorough, always prepared and has a nice style when pleading a case." IAM Patent 1000 2018
Theo Blomme is growing his reputation in the field of patent litigation, particularly within the energy, TMT, pharmaceutical and mechanical engineering sectors. He recently represented LEO Pharma in patent infringement proceedings against Sandoz regarding the patent for a combination of calcipotriol and betamethasone to treat psoriasis. He draws praise from clients for being "to the point, direct, friendly and clear". Chambers

& Partners

2018
Theo Blomme has considerable expertise in patent litigation proceedings in several industries including the telecommunications, computer technology, pharmaceuticals and biotech sectors. Clients say: "He thinks ahead, identifying potential pitfalls in the case, and works closely together with the client to communicate the risks and a litigation strategy to mitigate them." Others praise his "deep technical background knowledge and quick understanding." Chambers

& Partners

2017
"He is a first-class attorney. He is super bright and I have been very impressed how quickly he has grasped some complex biological and medical issues."

Managing Intellectual Property 2017

"Renaissance man Theo Blomme's technical background and ability to swiftly grasp concepts across a diverse array of sectors prove invaluable." IAM Patent 1000 2017
"A skilled operator with great legal knowledge" Managing Intellectual Property 2016
He [Willem Hoyng] forms a dream team with the "bright and diligent" Theo Blomme, a young lawyer who already has "bags of trial experience". IAM Patent 1000 2016
The "phenomenal" Theo Blomme recently joined from Freshfields: "He has excellent technical awareness and Freshfields lost out significantly when he left." IAM Patent 1000 2014
Visit us
Visiting address:
Rembrandt Tower, 30th floor
Amstelplein 1
1096 HA Amsterdam
The Netherlands
Postal address:
P.O. Box 94361
1090 GJ Amsterdam
The Netherlands
The facts
Education
University of Leiden (Law, 1995-2002)
Technical University Delft (System Engineering, Policy Analysis and Management, MSc, 1994-2002)